Switch is the new disposable vape kit by Mr Fog. It is capable of producing 5500 puffs. It holds 15ml of e-juice, which is quite a lot for a disposable pod of this size. It has 5% nicotine juice in it. Mr Fog Switch has caught the attention of many vaping enthusiasts due to its larger e-liquid capacity and powerful battery. The Switch comes in 20 different sweet flavors. This device comes with 1 Ohm mesh coil and has an anti-leaf design. These disposable devices have a twin-color scheme, denoting specific flavors, an interesting eye-catching feature. It is an extremely pocketable rechargeable disposable device that can fit easily in any pocket.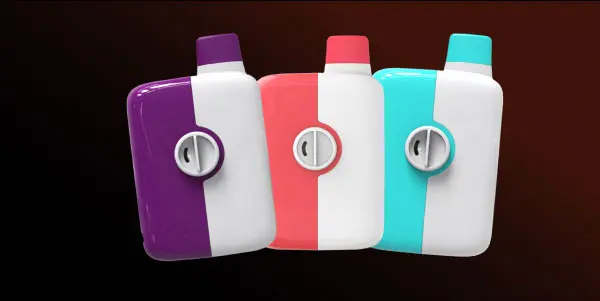 Inside The Box
Mr Fog Switch comes in a simple yet colorful packaging. It comes with a Type-C charging cable in the box. These days there are very few disposables that come with a charging cable. It's an awesome feature of Mr Fog Switch. You will find the device properly sealed in a plastic wrapper inside the box.
Overview and General Features
On the front of the device it says MR FOG SWITCH and the name of the flavor it is holding. The charging port is situated on the side of the device rather than at the bottom which is preferred by most users. On the bottom it has a small sticker which could be removed easily, it has a light under the sticker. The light will turn on when you plug it in for charging. When it's done charging, the light will turn off. Just leave it on there for about 40 minutes and you should be good. Mr Fog Switch is a draw activated device i-e it does not have any power button to turn on the device, simply inhale and it will automatically switch on.
Airflow Adjustment Switch of the Device
There is a switch situated in the middle of the main body of the device. This is actually the switch provided for the adjustment of the airflow. Some people think that it might change flavor, but it does not change flavor. It only switches airflow and not the flavor. You can adjust the airflow by turning the switch clockwise or anti-clockwise. You can see the air hole in one side of the switch. You can turn the switch up to close it off completely and turn it down if you want the airflow all the way open, depending upon your choice.
Food Grade TPU Mouthpiece
They have designed the mouthpiece very nicely. It is made of food grade TPU (Thermoplastic Polyurethane) material. It is non-toxic and kind of chewy silicone like mouthpiece that fits perfectly in your lips and you can chew on it without any fear of harm.
Flavor and Vapor Quality – Various Flavors of Mr Fog Switch
Mr Fog Switch comes in 20 different flavors. Some of the well-known flavors are Lemon Rainbow Ice, Bubble Gang Watermelon Ice, Menthol Mint Ice, Blueberry Raspberry Cherry Ice, Green Apple Raspberry Watermelon Ice, Kiwi Watermelon Acai Ice and Magic Cotton Grape Ice etc.
Lemon Rainbow Ice
The flavor on this device is nice with a mouthful of vapor. You can set the airflow according to your mood – slightly open means a bit of a tighter draw. You will get a little bit better flavor if the airflow is turned down towards a little tighter draw. Talking about the Lemon Rainbow Ice flavor, it is perfect; just like a candy rainbow flavor or like mix candies. It is sometimes hard to explain flavors in writing; you will certainly feel the difference after using it. The Lemon on it tastes sweet and sour but comparatively on a lighter note. The Ice on it is not super overpowering and just enhances the flavor which leaves a pleasant effect.
Bubble Gang Watermelon Ice
The name of the flavor sounds strange as most of the people wonder why it's not the bubble gum watermelon ice but that's entirely their marketing decision. The device of this flavor comes in white and pinkish-red (bubble gum or watermelon) color. The ice on this one is actually a little bit more prominent and cooling. Overall the flavor is very sweet and the bubble gum is more dominant on this one. The watermelon flavor feels very fitting particularly on the exhale of the puff. It leaves a very sweet and sugary taste on the tongue.
Blueberry Raspberry Cherry Ice
In terms of sweetness the Blueberry Raspberry Cherry Ice might be the sweetest of all the available flavors. You will get the taste of Blueberry right on the inhale followed immediately by Raspberry. The Ice is not really intense; however, it has a nice mild icy taste. Even though it's called Ice but you will not get that solid irritating icy taste. It has the perfect balance of tastes. It has a very open airflow and If you turn it down a little bit then it will further enhance the flavor.
Fidget Spinner Airflow Switch
The airflow adjustment works perfectly and you won't find any complaints. It does its jobs plus it looks cool. You can fiddle with this little switch. Some might find it as a fidget spinner which just take your mind off of the things.
Battery and Charging
It comes with 650 mAh integrated battery that is rechargeable with a Type C cable. It takes around 40 to 50 minutes to fully charge the battery. One full charge can last up to 4 to 5 days of moderate use. It is recommended not to charge the device longer than 1 hour, this way it will not disturb the flavor and protect the battery as well. It is better to keep an eye on the device when its charging, don't overcharge it because you do not want to burn anything; it will also prevent burnt taste.